| | |
| --- | --- |
| | Disclaimer: While it is the intention of the foremost members of this website to keep pages as mythologically accurate as possible, this site should not be taken fully as mythical, legendary or folkloric canon (let alone as a resource for any paper, report or journal). Cite pages at your own peril. |
Yuki-Onna

'
Information
Alternate Names/Spellings
雪女, "Snow Granny", "Snow Hag", "Snow Harlot", "Snow Nanny", "Snow Sis'", "Snow Wench", Snow Woman, "Snowfall Hag", Yuki Anesa, Yuki-Musume, Yuki-Onbaa, Yuki-Onago, Yukifuri-Baba, Yukijorō, Yukinba
Origins
Japanese mythology
Alignment
Lawful Evil
Element
Ice, Life/Death/Blood
Species
Undead, Youkai
Appearance
Beautiful, frigid Japanese maiden...
Origins
The Yuki-Onna is a creature with origins in Japanese mythology, legend and folklore.
Appearance
The Yuki-Onna appears as a very pale woman in a white kimono with either white or black hair. They are mostly described as young women capable of drawing men to their deaths with their beauty.
Behavior
The Yuki-Onna appears to have a calm and serene personality, but is ruthless in killing those who have the unfortunate luck of seeing her.
She sometimes appears to travelers as a kind woman or a grieving mother looking for a child in the snow. Either way, she fools the travelers with her facade and leads them astray guaranteeing their deaths.
On rare occasions, the Yuki-Onna spare the life of a traveler, depending on an aspect of him they find interesting ( a handsome man or talented musician, for example).
In return, they demand a promise from the spared soul to never tell another of their encounter or she will return and take his life.
Abilities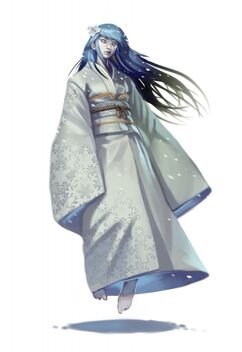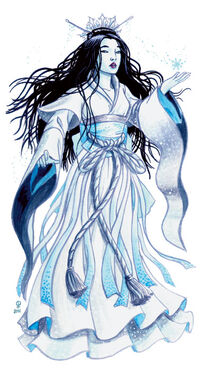 Ad blocker interference detected!
Wikia is a free-to-use site that makes money from advertising. We have a modified experience for viewers using ad blockers

Wikia is not accessible if you've made further modifications. Remove the custom ad blocker rule(s) and the page will load as expected.