| | |
| --- | --- |
| | Disclaimer: While it is the intention of the foremost members of this website to keep pages as mythologically accurate as possible, this site should not be taken fully as mythical, legendary or folkloric canon (let alone as a resource for any paper, report or journal). Cite pages at your own peril. |
Werecat

"I like the dark. It's friendly."

--Irena Dubrovna,Cat People

Information
Alternate Names/Spellings
Ailuranthrope, Catanthrope, Cat Man, Cat-Man, Catman, Felianthrope, Were-Cat; (specific) Were-Cheetah, Werecheetah, Were-Cougar, Werecougar, Were-Jaguar, Werejaguar, Were-Leopard, Wereleopard, Were-Lion, Werelion, Were-Lynx, Werelynx, Were-Ocelot, Wereocelot, Were-Panther, Werepanther, Were-Puma, Werepuma, Were-Tiger, Weretiger
Origins
{{{Origins}}}
Alignment
Chaotic Neutral, Chaotic Good, Chaotic Evil
Element
Species
Therianthrope
Appearance
Cat-Shaped Humanoid
Origins
The Werecat is one of a race of creatures with origins in the mythology, legend and folklore of Europe (all throughout), as well as Africa, Asia (specifically India, China, Japan, Thailand, Indonesia and Malaysia), Oceania (specifically Papua New Guinea) and the Americas.
Appearance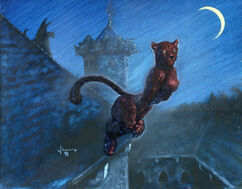 Behavior
Abilities
Ailuranthropy or Felanthropy
Weaknesses
Ad blocker interference detected!
Wikia is a free-to-use site that makes money from advertising. We have a modified experience for viewers using ad blockers

Wikia is not accessible if you've made further modifications. Remove the custom ad blocker rule(s) and the page will load as expected.