| | |
| --- | --- |
| | Disclaimer: While it is the intention of the foremost members of this website to keep pages as mythologically accurate as possible, this site should not be taken fully as mythical, legendary or folkloric canon (let alone as a resource for any paper, report or journal). Cite pages at your own peril. |
Unicorn

'
Information
Alternate Names/Spellings
(pl) Equi Unicornes, (sing) Equus Unicornis, (pl) Hippoi Monocerata, Hippoi Monokerata, (sing) Hippos Monoceras, Hippos Monokeras, Licorn, Monoceros, Monocerus
Origins
Alignment
Neutral Good, Chaotic Good
Element
Species
Magical Beast (Equine)
Appearance
One-horned horse
Origin
The Unicorn is a creature with origins in Greek and Roman mythology, legend and folklore. Accounts of its existence would later gain connections to Medieval European mythology, legend and folklore.
Appearance
A Unicorn is often described as a horse with a single horn spiraling out of its forehead. While it has been depicted with white fur in medieval paintings, a unicorn can have different fur colors depending on its breed.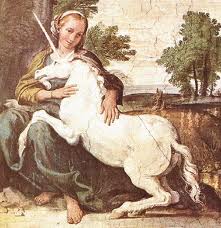 Behavior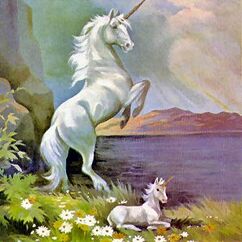 Abilities
Weaknesses
Ad blocker interference detected!
Wikia is a free-to-use site that makes money from advertising. We have a modified experience for viewers using ad blockers

Wikia is not accessible if you've made further modifications. Remove the custom ad blocker rule(s) and the page will load as expected.