| | |
| --- | --- |
| | Disclaimer: While it is the intention of the foremost members of this website to keep pages as mythologically accurate as possible, this site should not be taken fully as mythical, legendary or folkloric canon (let alone as a resource for any paper, report or journal). Cite pages at your own peril. |
Tsukumogami

'
Information
Alternate Names/Spellings
付喪神, "Item/Object Kami", "Item/Object Spirit", "Kami of Tool"
Origins
Japanese Mythology, Legend and Folklore
Alignment
Element
Species
Yōkai
Appearance
Origins
The Tsukumogami is a creature with origins in Japanese mythology, legend and folklore.
Appearance
Abumi-guchi - A furry creature formed from the stirrup of a mounted military commander that works for Yama Orochi.
Bakezōri - An animated pair of straw zori sandals.
Biwabokuboku - An animated Biwa.
Boroboro-ton - An animated comforter.
Chōchinobake - An animated lantern, also known as Burabura.
Eritategoromo- An animated Buddhist high-priest robe.
Hahakigami- An animated broom (or ōnusa).
Ichiren-bozu - Animated prayer beads.
Ittan-momen - An animated roll of cotton.
Jatai - Animated kimono sash.
Kameosa - An animated sake jar.
Kasa-obake - An animated umbrella. Also known as Hone Karakasa
Kosode-no-te - An animated kimono robe.
Kotofurunushi-An animated Koto
Kurayarō - An animated saddle
Kyōrinrin - Animated scrolls or papers.
Meganejin - Animated spectacles.
Minowaraji - An animated Mino straw coat
Morinji-no-okama - An animated tea kettle. Another variation is Zenfushō
Nyoijiza i- An animated back scratcher
Osakōburi - An animated crown.
Sakabashira- An animated house pillar, installed upside down.
Shamichoro - An animated shamisen
Shirōneri - An animated mosquito netting or animated dust clothes.
Shōgorō - An animated gong
Ungaikyo - An animated mirror.
Waniguchi - An animated temple bell or gong.
Yamaoroshi - An animated grater.
Zorigami - An animated clock.
Behavior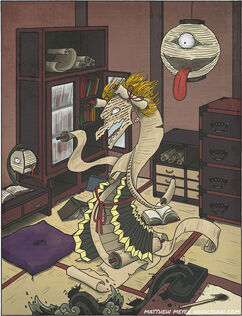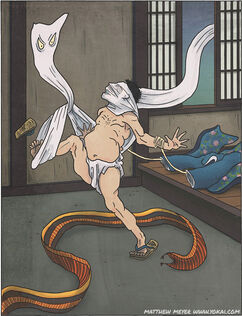 Abilities
Ad blocker interference detected!
Wikia is a free-to-use site that makes money from advertising. We have a modified experience for viewers using ad blockers

Wikia is not accessible if you've made further modifications. Remove the custom ad blocker rule(s) and the page will load as expected.