| | |
| --- | --- |
| | Disclaimer: While it is the intention of the foremost members of this website to keep pages as mythologically accurate as possible, this site should not be taken fully as mythical, legendary or folkloric canon (let alone as a resource for any paper, report or journal). Cite pages at your own peril. |
Alkonost

'
Information
Alternate Names/Spellings
{{{Alternate Names/Spellings}}}
Origins
{{{Origins}}}
Alignment
Lawful Neutral, Neutral Good, Lawful Good
Element
Species
Magical Beast, Mythical Being, Chimera
Appearance
Colorful Bird with a woman's head
Origins
The origins of the Alkonost are unknown. Some say that they are related to the Sirin.
Appearance
Alkonost are very large and colorful birds with the heads of human women. The color variations of an Alkonost vary according to age, with older birds being more colorful than the younger.
Behavior
Alkonost are joyful beings. They fly from place to place, singing their beautiful songs. When they wish to lay their eggs, they roll them into the sea. For seven days the sea will be still and then on the seventh day, the egg will hatch and storms will roll in.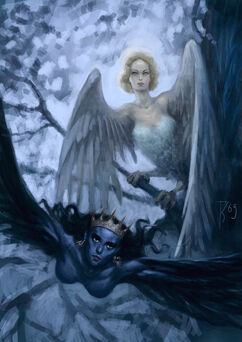 Abilities
The Alkonost have the ability to sing so beautifully that all who hear forget everything else and pause to listen to the music. Entire wars have come to a halt because of their singing. These chimeric beings also appear to have some influence over the weather.
Ad blocker interference detected!
Wikia is a free-to-use site that makes money from advertising. We have a modified experience for viewers using ad blockers

Wikia is not accessible if you've made further modifications. Remove the custom ad blocker rule(s) and the page will load as expected.